Discover more from Madhur's Writings
I write about technology, lifestyle and experiences. Subscribe to get my writing directly to your inbox.
Climbing Mt Rainier: My Journey - Part 2
👋 Hey, Madhur here! Welcome to my Newsletter. I write about technology and lifestyle. Subscribe to my newsletter to receive all my posts directly in your inbox. Happy reading.
Thanks for reading Madhur's Writings! Subscribe for free to receive new posts and support my work.
This is a continuation of my previous post.
Camp Muir Attempt
The next destination on our journey was Camp Muir (10.5k ft), the base camp for Mt. Rainier. Little did I know that this hike would turn out to be the most terrifying experience of my life. This was a training hike even for some of the volunteers on how to navigate in harsh weather. We set off early from the Paradise visitor center, and although the weather seemed cloudy yet manageable, things quickly took a turn for the worse. The snow began to fall, accompanied by fierce winds that relentlessly battered our faces, causing one side to grow uncomfortably cold and icy. Despite the deteriorating conditions, we pressed on but soon found ourselves engulfed in a whiteout. We could not see anything. We were a quite large group (maybe around 30) so we were not that scared but still we all were quite worried.
When we were approximately 400 ft below Camp Muir, we made the difficult decision to call off the ascent and start descending. However, even with our Garmin and knowledge of our location, we somehow lost our way and found ourselves walking on an unknown ridge. We were disoriented, unsure of where we were headed. Fortunately, someone in our group halted our progress upon hearing the sound of water. We realized there could be a stream covered under snow and if we would've gone there quite possible the snow bridges could break and someone could fall down. We had to find an alternative route, which meant navigating a treacherously steep ridge. This unforeseen setback forced us to make frequent stops, causing our bodies to cool down excessively. Finally, after conquering that harrowing ridge, we managed to regain our bearings. However, the unexpected turn of events had delayed us by nearly 4-5 hours, and we found ourselves descending into the darkness of night.
Lessons learned - If you are going in the unknown always prepare for the worst scenario you can imagine. Know what resources you have which can help you during the journey. Don't panic. Trust your people, as you are all in this together.
Glacier Peak Attempt
My attempt to summit Mt. Rainier in 2020 was not possible due to limited permits on a first-come, first-served basis. As a result, it was deferred for a year. However, in August, I had an opportunity to summit Glacier Peak. This remote peak nestled deep within the Cascades presented an intriguing challenge. The hike to the summit was notably long, spanning approximately 40 miles roundtrip with two rest camps along the way. The climb itself proved to be the most visually stunning experience I had ever encountered. If I have to climb a mountain again, this would be it. The sheer beauty of the terrain captivated my eyes, evoking an irresistible desire to return time and time again.
The first day was the longest, requiring nearly 8 hours of hiking to reach the first camp. Carrying a 40-pound backpack made it the heaviest load I had ever borne on any climbing expedition. In addition to my climbing shoes, I had to bring along extra hiking shoes to accommodate the longer portions of the journey. The landscape was a breathtaking spectacle, adorned with a plethora of wildflowers showcasing a variety of vibrant greens and colorful blossoms. One thing I realized when going there was that the trail cuts through Pacific Crest Trail (PCT). This realization sparked immense joy within me, as I read about the PCT in the book "Wild." Perhaps one day I will do it too but even traversing a short trail on PCT felt amazing.
Remarkably, this climb turned out to be one of the most straightforward endeavors I had undertaken. It unfolded without any significant events, which proved to be a refreshing change of pace. The weather was exceptional, and the trail conditions were favorable, enhancing the overall experience.
Lessons Learned - To go somewhere far and unique, you must walk a lot. To achieve something great, you have to work a lot.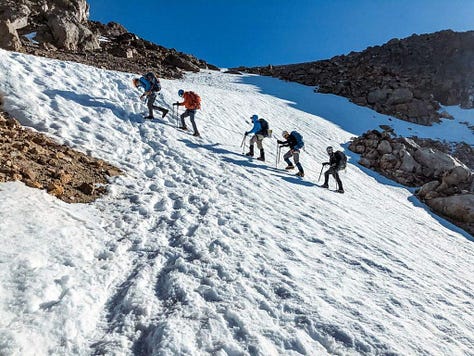 This was my last major climb for this season as it was September and most of the peaks are not that safe to climb after. I did continue my hiking practice by going on smaller hikes since I knew I will attempt Mt Rainier next year.
Mt St Helens Attempt
I attempted my first peak of 2021 while training for Mt Rainier in May. Mt St Helens, though not a difficult peak to climb, was an ideal place to train without the need for ropes or guides, so I went with my training crew. To avoid driving a long distance in the morning, we car-camped overnight at the trailhead, which added to the fun of the experience.
Our hike began early in the dark, and I soon discovered that St Helens has approximately seven false peaks, which can be mentally challenging. Navigating these faux summits tested our mental fortitude, but undeterred, we pressed on relentlessly. However, the weather took an unexpected turn, evolving from a gentle snowfall to fierce winds, creating a disorienting white-out effect. We took a quick break, hoping the weather would improve, but we were getting cold, so we kept hiking to keep ourselves warm. Unfortunately, it became apparent that the weather was not improving, and it was unsafe to proceed further, so we made the difficult decision to turn around and head back. This was undoubtedly the best decision at the time, and nobody regrets it.
At one point, rocks fell from the mountain and narrowly missed some members of our group, causing a brief moment of panic. It was a scary reminder of the importance of staying calm and making the best decisions possible in challenging situations.
Lessons Learned - Be calm and patient, even when you think you are close to achieving your goal. Unexpected events can occur, but it is essential to remain focused, deal with them calmly, and move forward.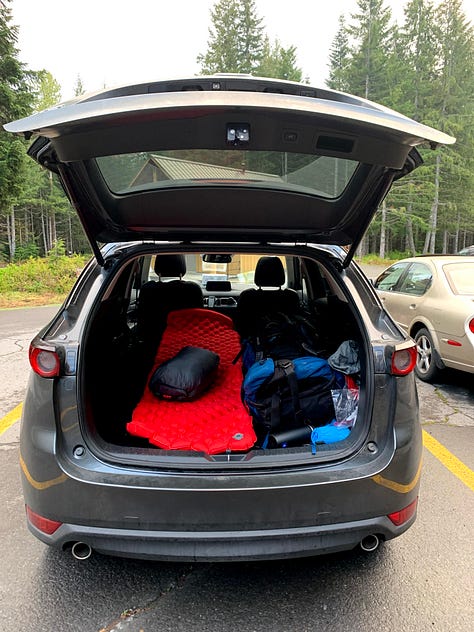 Mt Rainier Attempt
After 1.5 years of training and learning new skills, the day was close. Our trip to summit Rainier was planned for the first week of June. All of these previous attempts taught me a lot of things: how to pack the backpack, use my gear, walk to a ladder, etc.
One notable difference with this peak was its elevation. While the other peaks we had tackled before were close to 10,000 feet, this one stood at an impressive 14,000 feet. The higher altitude posed a unique challenge as it introduced the effects of reduced oxygen and the body's response to it. Above 10,000 feet, individuals react in various ways, and unless you experience it firsthand, it's difficult to truly comprehend.
Our trip was carefully planned for a duration of four days. On Day 1, we hiked from Paradise to Ingram Flats, where we set up our camp for the night. Day 2 was designated as a rest day, allowing us to acclimate to the altitude and engage in training exercises specific to glacier climbing. Then, as the clock struck midnight, transitioning into Day 3, we embarked on our summit bid, aiming to reach the summit and descend before evening. We decided to stay at Ingram Flats one more night because why not.
Behind Ingram Flats, where we camped, there was this area which is named Icebox. It was termed because it has a large serac which can fall in summer and can create an avalanche. Our guide told us that there was a major accident here back in 1981 where around 12 people died. It was scary but we were already there and we could not do anything. While sleeping you can clearly hear Ice and rocks falling around you. They are generally very far but it's so calm that you can hear it very clearly. Once you cross that area, we had to pass through a treacherous area just beneath Disappointment Cleaver (DC) called a bowling alley. You can imagine why it is called that, if you don't pass that fast, the rocks and come down knock you down just like bowling, but into a glacier.
Climbing the Disappointment Cleaver was hard since we had the crampons on and it's just a steep climb up the rocky area for about 1000-1500 ft. You have to be extra careful since if you push a rock toward the bowling alley, it can be dangerous for people passing below you.
Upon reaching the 12,000-foot mark, one of our fellow climbers began experiencing hallucinations, prompting us to make the difficult decision to send them back down to the 11,000-foot elevation, where they could recover and replenish their energy with some nourishment. When we reached the summit, even I could feel the thin oxygen. I was not feeling like eating any solid food (I have been taking summit pizza on all my climbs - which is just a dominos Pizza which gets really cold). I did eat a bite but couldn't eat anymore.
Fortunately, being early in the climbing season, we encountered no treacherous crevasses along our route to the summit. Furthermore, we were blessed with superb weather conditions, enabling us to conquer the peak under clear skies and safely make our descent.
Lessons Learned - With enough practice, determination, and patience you can achieve a lot of things. There would definitely be some failures but you have to keep moving.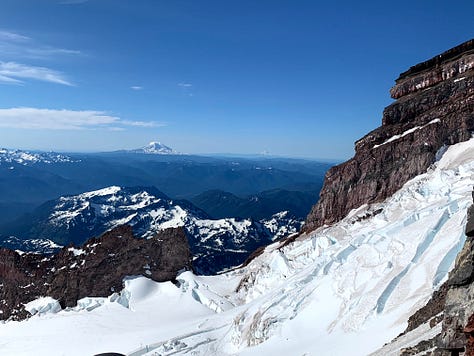 This marked the end of my 2 years journey on how I prepared and attempted those amazing peaks for the pacific northwest. It was an amazing journey with a lot of challenges and learnings. This was one of the most thrilling times of my life and I really enjoyed it.
Thank you for reading and I hope you enjoyed it.
---
If you enjoyed reading this you may be interested in following me on Twitter and Medium.